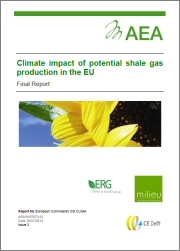 Report:
Climate impact of potential shale gas production in the EU. Final Report
Date of issue:
 30.07.2012 
About publication: 
The report was compiled by AEA in cooperation with CE Delft and Milieu commissioned by the Directorate General for Competition in European Commission Climate. This report investigates the impact of shale gas extraction, most notably greenhouse gas emissions, on the climate in the European Union.  The report is based on the research conducted mainly in the US and presents the estimated emission of greenhouse gases on every level of production of shale gas and indicates the best currently available techniques of controlling and reducing these emissions.  The obtained results are the basis for estimating the prospective value of the emitted greenhouse gases coming from the shale gas production within the EU. The next chapter of this report contains an overview of the current legislation in force in the field of greenhouse gas emission from shale gas production. The report summarizes with an analysis of the current greenhouse gas emission reporting system and research on whether the existing regulations are suitable for the emissions coming from shale gas production and how can they be improved.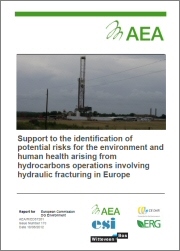 Report
Support to the identification of potential risks for the environment and human health arising from hydrocarbons operations involving hydraulic fracturing in Europe
. 
Date of issue
 10.08.2012  
About publication:
 The Report was commissioned by the Chief Inspectorate of Environmental Protection. It contains an estimate of the hazards and impact on health and environment of hydraulic fracturing, especially in the context of shale gas extraction. The Report identifies the basic potential risks on every level of shale gas extraction, i.e. 1) site location choice and preparing the area for drill work; 2) planning, drilling, protection and cementing the bore hole; 3) hydraulic fracturing; 4) finishing the bore hole; 5) extraction; 6) clearing the bore hole. The Report also analyzes the legal regime of the EU in the field of the natural environment and takes action towards identifying those risks connected with shale gas production which are covered in European Union regulations and which of them fall outside these regulations. The next chapter of the Report is devoted to an overview of the regulations in force, standards, best practices and guidelines which can be used for managing the risks connected with hydraulic fracturing. The conclusion section of the conducted analyses and research provides appropriate recommendations for the EU.